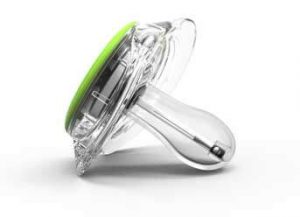 The team at BlueMaestro.com has now come up with the connected pacifier for those parents who want to keep track of their small children in a variety of ways. The Pacifi monitors your child's internal temperature and sends that data to the accompanying free app using low energy Bluetooth. It also acts as a tracking device alerting parents when the child wanders too far away from the parent's smartphone or connected mobile device.
Finally it will help you find it when it is misplaced by the child or parent by pinging the smartphone to its location and making an audible alert tone when your phone is nearby. This type of connected family monitoring technology gives parents a number of tools to help them keep track of their kid's health and whereabouts. Find more information over at BlueMaestro.com.
Make sure you follow Jamie's picks and coverage over at HTWeekly.com and the Tech Podcasts Network live CES 2015 coverage over at TPN.tv during the show where our entire CES team will be bringing you the best, the most innovative, and newest tech gadgets to you from the conference! And don't forget to check out his shows for at NursingShow.com, MedicCast.tv, and the brand new Health Tech weekly show at HTWeekly.com.
Podcast: Play in new window | Download
Subscribe: Apple Podcasts | RSS | More