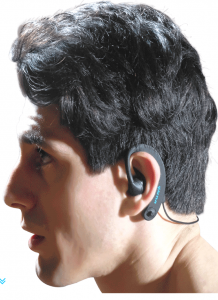 Kuai Multisport Biometric Headphones are the perfect training tool for serious athletes and fitness buffs. The Kuai earbuds are waterproof, Bluetooth connected earphones that can play your music. But you can also directly load a playlist into them and couple that with a voice track of a top athlete in your sport. The voice coaches you and encourages you during your workout.
Health Tech Weekly host, Jamie Davis, the Podmedic interviewed KuaiWear CEO and founder Carlos Marco Rider about the new fitness audio devices. They were at the CES 2016 conference in Las Vegas last month showing off the new workout tools for athletes and fitness buffs at all levels of competition.
Visit KuaiWear.com for more information on this device. It is set for public consumer release later this spring.
—-
Jamie Davis is the host of Health Tech Weekly which can be found at HTWeekly.com. He is a nurse, paramedic, and health journalist.
Support our CES Sponsor:
30% off all New GoDaddy Product Orders cjcgnc30
$.99 .com New or Transfer cjcgnc99 @ GoDaddy.com
$1.00 / mo Economy Hosting with a free domain! Promo Code: cjcgnc1hs
$1.00 / mo Managed WordPress Hosting with FREE Domain! Promo Code: cjcgncwp1
GoDaddy Promo Codes always save you money, check out our Promo Codes Today
Podcast: Play in new window | Download
Subscribe: Apple Podcasts | RSS | More