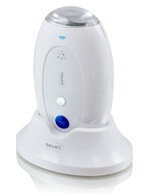 Every year at CES, the Tech Podcast Network hosts in attendance pick their TPN Picks of the best at the show. This year Health Tech Weekly host Jamie Davis, the Podmedic picked the ThermoFlash scanning thermometer from BeWell Connect. Jamie interviewed BeWell's medical director Dr. Francios Teboul who detailed the reasons why using a scanning thermometer that never has to touch the patient makes so much sense.
First, in the case of infectious diseases like ebola or the seasonal flu, limiting contact between caregivers and patients just makes sense to limit transmission of the disease. It's also a very useful feature for those situations where you don't want to disturb the patient while they are resting. This is particularly of interest to those parents of small children out there who are sick and need their rest.
The consumer version of the ThermoFlash will be available soon for around $100, it's FDA approved and will have Bluetooth connectivity for those with smartphones and the BeWell Connect app. Find more information on their website at www.BeWell-Connect.com.
Make sure you follow Jamie's picks and coverage over at HTWeekly.com and the Tech Podcasts Network live CES 2015 coverage over at TPN.tv during the show where our entire CES team will be bringing you the best, the most innovative, and newest tech gadgets to you from the conference! And don't forget to check out his shows for at NursingShow.com, MedicCast.tv, and the brand new Health Tech weekly show at HTWeekly.com.
Podcast: Play in new window | Download
Subscribe: Apple Podcasts | RSS | More