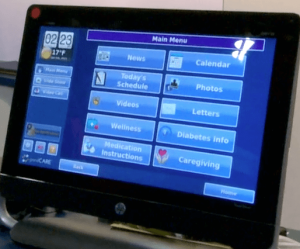 The entire population is aging here in the United States and many of us are dealing with helping our aging parents remain independent as long as possible while still being safe and monitored in their homes. Grandcare offers a unique solution to that connectivity and independence.
The Grandcare system provides a touchscreen computer in the home of the elderly person with easy to use functionality that connects them with both their health care professionals and their family caregivers while making the whole setup easy to understand and navigate. The basic system can be augmented with a collection of connected medical devices to monitor various health aspects like weight and blood pressure. You can find more information about the program and the whole setup at Grandcare.com.
Make sure you follow Jamie's picks and coverage over at HTWeekly.com and the Tech Podcasts Network live CES 2015 coverage over at TPN.tv during the show where our entire CES team will be bringing you the best, the most innovative, and newest tech gadgets to you from the conference! And don't forget to check out his shows for at NursingShow.com, MedicCast.tv, and the brand new Health Tech weekly show at HTWeekly.com.
Podcast: Play in new window | Download
Subscribe: Apple Podcasts | RSS | More