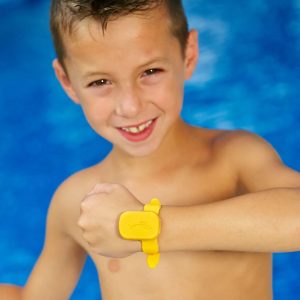 Water safety is a big issue for prevention and awareness here in the United States. Drowning is one of the leading causes of death in young children and sadly is almost always preventable. Health Tech Weekly host Jamie Davis, the Podmedic got the chance to chat with iSwimband COO Paul Newcomb about the iSwimband device and the additions to the product line and app since their interview last year.
The iSwimband is a small digital device that attaches to your child's swimsuit or goggles with a clip to allow them to swim safely because you are instantly alerted when they are in danger. The alerts to the app can be adjusted to warn you the instant the iSwimband contacts water for younger children or allow alerts when submerged for up to 60 seconds for older children and accomplished swimmers. Find out more information about this important innovative safety tool at iSwimband.com.
Make sure you follow Jamie's picks and coverage over at HTWeekly.com and the Tech Podcasts Network live CES 2015 coverage over at TPN.tv during the show where our entire CES team will be bringing you the best, the most innovative, and newest tech gadgets to you from the conference! And don't forget to check out his shows for at NursingShow.com, MedicCast.tv, and the brand new Health Tech weekly show at HTWeekly.com.
Podcast: Play in new window | Download
Subscribe: Apple Podcasts | RSS | More