HearNotes is bringing revolutionary lossless audio technology to completely wireless earbuds at CES2015!
Podcast: Play in new window | Download
Subscribe: Apple Podcasts | RSS | More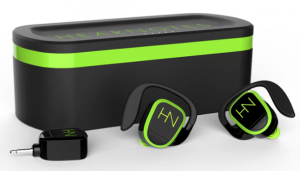 For high-end audiophiles and people who crave both fashion and fidelity in their earbuds, HearNotes has brought you a solution. It is actually the most elegant solution we've seen in quite a while. No more bulky, blocky over the ear headphones, no more wires to get tangled or broken, HearNotes breaks the paradigm.
Health Tech Weekly host Jamie Davis, the Podmedic got the chance to stop by the HearNotes booth while at CES2015 to chat with founder and CEO Patrick Donohue about the genesis of the product and the key design features that set these earbuds apart from the pack. From the packaging and charging box to the innovative and exiting design, we think the HearNotes earbuds will be the next big thing in audio later this spring when they're released!
Make sure you follow Jamie's picks and coverage over at HTWeekly.com and the Tech Podcasts Network live CES 2015 coverage over at TPN.tv during the show where our entire CES team will be bringing you the best, the most innovative, and newest tech gadgets to you from the conference! And don't forget to check out his shows for at NursingShow.com, MedicCast.tv, and the brand new Health Tech weekly show at HTWeekly.com.