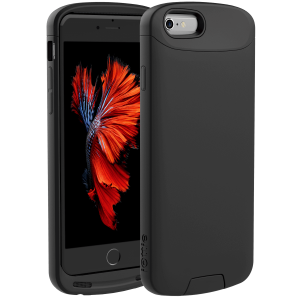 Each year, we love to see the new advancements with wireless Qi technology, and this year did not disappoint. Our resident college student, Daniele, was on the hunt for new cell phone accessories and enjoyed speaking with Andrew from iOtte.
Of particular interest was their iON phone case which brings wireless charging capabilities to the iPhone 6 and 6s. Its sturdy design includes easy access to the headphone jack and data port while allowing wireless charging on any Qi enabled surface. Another new product is their innovative charging desk pad that simultaneously charges a power bank that can be taken along with you on the go, to charge any of your devices.
One of our favorite products this year is a new car mount that offers one touch lock and release technology for easy and convenient wireless charging in the car. This combines their already popular window mount with the ease of wireless charging.
Prices begin at $49.95 for the iON phone case and $69.95 for the Easy One Touch Qi Standard Car Mount Charger. Look for the new deck pad to be available in Spring 2016.
Sponsored by:
Declare war on crappy earbuds and treat yourself to a better headphone experience with new Monster headphones.
Welcome to the Eureka! Factory, where great programs, projects, events and creative spaces and places happen!
Follow TPN on Twitter: Techpodcasts; Facebook: TPNTV; Google+: TPNTV
Interview by Daniele Mendez of F5 Live: Refreshing Technology
Podcast: Play in new window | Download
Subscribe: Apple Podcasts | RSS | More