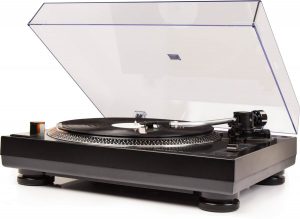 In 2016 it may seem strange to be reading about turntables, but the interest in vinyl has been growing in popularity the past few years. With that trend, it's good to be a company like Crosley who has specialized in turntables since they were founded.
The company has been known for their self-contained turntable systems, occasionally featured in movies, but as the industry reemerges, there is demand from customers for a traditional component-style turntable. This year, they are showing off several, including one prototype for a future model.
The C10 belt-driven table is available for $399, the C100 belt-driven table is available for $199, the C200 direct drive table is available for $279, and the C20 prototype is hoping for a 2017 release.
Sponsored by:
Declare war on crappy earbuds and treat yourself to a better headphone experience with new Monster headphones.
Welcome to the Eureka! Factory, where great programs, projects, events and creative spaces and places happen!
Follow TPN on Twitter: Techpodcasts; Facebook: TPNTV; Google+: TPNTV
Podcast: Play in new window | Download
Subscribe: Apple Podcasts | RSS | More