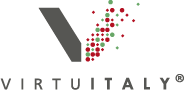 The past year has stolen a lot from us, but one of the biggest losses has been the ability to travel and experience new places and cultures. Traveling is big part of life for many people of varying backgrounds. The experiences of going to parks, restaurants, and galleries is hard to give up. However, thanks to ArtCentrica, we can experience the art of Italy through VirtuItaly.
While VirtuItaly is designed to be an immersive platform that allows for in-person and remote experiences, the last year has certainly placed a focus on one part of the business. That aspect is a fantastic virtual platform that can help bring the experience of a classic art gallery to you, wherever you are. Through the platform, you can explore a large collection of paintings in a whole new way.
While normally, you must view the paintings from a distance, with VirtuItaly you can get up close and personal. In fact, you can use the platform to get so close you can see the individual imperfections in the paint. In our demo, we get to zoom into a painting to the point where you can see brush strokes and canvas cracks. The detail is absolutely stunning, and gives you the ability to experience the art in new ways.
One of the other things that sets the platform apart is the way they work to digitally restore the artwork. The art restorers research the materials that were available and popular for tinting paint in the time the work was created, and use that to determine what the colors would have been originally. This means that the vividness of the colors are likely closer to the original work than the reality is today.
VirtuItaly is available now, with a free trial to see what it is all about. To learn more or try it out, check out the VirtuItaly website.
Interview by Todd Cochrane of Geek News Central.
Podcast: Play in new window | Download
Subscribe: Apple Podcasts | RSS | More