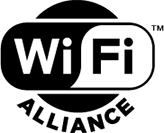 Our lives are increasingly connected, and many of those connections are made via Wi-Fi. These days, while many of us are working from home, signal strength and speed have become even more important than before. Not because of this need, but in support of this need, the Wi-Fi Alliance has announced the next upgrade to the Wi-Fi standard: Wi-Fi 6E.
You may be unaware of the Wi-Fi Alliance, but they are an essential part of our lives. The organization is responsible for creating, maintaining, and advancing the standard that is Wi-Fi. They are the reason why it keeps getting faster and more reliable. They are also the reason why your HP laptop can connected to a Linksys router and have all of the benefits, without being manufactured by the same company.
The most recent version of the Wi-Fi standard was the renamed Wi-Fi 6. Like its Wi-Fi 5 (formerly 802.11ac) predecessor, the new standard runs on 5GHz spectrum. But, new spectrum has been opening up across the globe in the 6GHz bands, which gives additional speed and reliability. New spectrum means a new draft for what is being called Wi-Fi 6E. The updated standard will bring with it 14 additional 80 MHz channels and 7 additional 160 MHz channels. The additional of new channels means more opportunity to find channels without any local interference, improving stability.
Potentially even more important that all of this is the addition of capacity. Connected homes and smart homes mean more devices, all of which are looking for internet access via Wi-Fi. Fortunately, Wi-Fi 6E compatible devices will be coming to the market soon. As always, older Wi-Fi devices will still be able to connect to the newer routers, and newer devices will still be able to connect to older routers. To learn more about Wi-Fi 6E and the Wi-Fi Alliance, head over to their website.
Interview by Todd Cochrane of Geek News Central.
Podcast: Play in new window | Download
Subscribe: Apple Podcasts | RSS | More