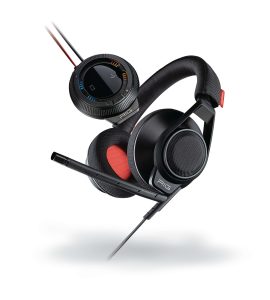 In addition to their well-known phone products and their music headphones, Plantronics also offers a line of gaming headphones and accessories.
Plantronics RIG is a gaming headset which also offers a desktop mixer. You can bring in 2 audio sources so you can listen to the game and also bring in external sound. If you want to add your own music, you can; if you want to chat on Skype while you play a game on Origin you can. Plantronics has even heard of people using the external audio to bring in audio from a baby monitor – the options are pretty limitless.
Using the mixer, which supports line-in or fiber optic in, the headphones can be used with nearly any platform, including Xbox, PC and PlayStation. With dual microphones, the headset can also allow you to game chat and use the phone at the same time. They are available now for $129.99.
To focus on the PC, an altered version of the headset is also available specifically for PC gamers. Offering a shorter cord for desktop use, plus 7.1 surround sound, PC gamers get a bit of an advantage over their competitors. The mixer does not include fiber optic support or Xbox headset, like its multi-platform partner does. It is available now for $99.99.
Finally comes the simpler RIG Flex. It plugs in directly with a standard 3.5mm plug, meaning you can plug it in directly to a computer, Wii or mobile device. It has lost the mixer, making it ideal for mobile. What it doesn't lose is the sound quality, build quality and, of course, comfort. It is available now for $79.99.
Interview by Scott Ertz of F5 Live: Refreshing Technology for the Tech Podcast Network.
Sponsored by:
From laptops and Lumia to Surface and Xbox, get it at the Microsoft Store.
Welcome to the Eureka! Factory, where great programs, projects, events and creative spaces and places happen!
Follow F5 Live: Refreshing Technology on Twitter: PLuGHiTzLive; Facebook: F5 Live; Google+: PLuGHiTz Live
Podcast: Play in new window | Download
Subscribe: Apple Podcasts | RSS | More