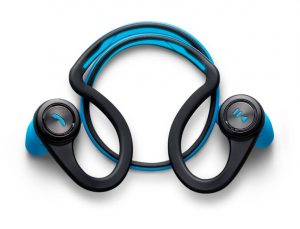 When you think of Plantronics, you might think of headphones, but you probably go right to phone products. What you might not know is that, in addition to their phone/voice products, Plantronics offers a line of music centric devices as well.
The BackBeat GO 2 is a set of fairly standard-looking Bluetooth earbuds, but with a couple of traditional Plantronics features. Included with the earbuds is a charging case, which can add 2 full charges, so when you are away from power for long periods of time, you can keep them charged without a wall. They are available now for $99.99.
The BackBeat Fit is a set of Bluetooth earbuds that is unique enough to have earned them a CES Innovation Award because of its design. The material is designed to be completely flexible, while still preventing them from being tangled or kinked. Along with the headset is a matching case, which turns into an armband. To ensure outdoor safety, the surface of both are reflective, and the earbuds do not block outside sound. They are available now for $129.99.
Straying from earbuds, the company also offers the BackBeat Pro, an over-the-head set of Bluetooth headphones designed more for sound quality than for sports activity. It offers active noise cancelation and 24 hours of playtime. What sets this apart is the sensors – it allows the headphones to automatically pause your music when you take the headphones off, similar to how many Plantronics voice headphones work.
They also offer external mics, so you can turn on or off outside sound. If you're on an airplane and the flight attendant comes up, you can hit a button and hear what they are saying instead of having to move them off of your ears and shift them back. You can also use the headphones without Bluetooth if the battery dies or you're in a place where Bluetooth won't get the job done. They are available now for $249.99.
Interview by Scott Ertz of F5 Live: Refreshing Technology for the Tech Podcast Network.
Sponsored by:
From laptops and Lumia to Surface and Xbox, get it at the Microsoft Store.
Welcome to the Eureka! Factory, where great programs, projects, events and creative spaces and places happen!
Follow F5 Live: Refreshing Technology on Twitter: PLuGHiTzLive; Facebook: F5 Live; Google+: PLuGHiTz Live
Podcast: Play in new window | Download
Subscribe: Apple Podcasts | RSS | More