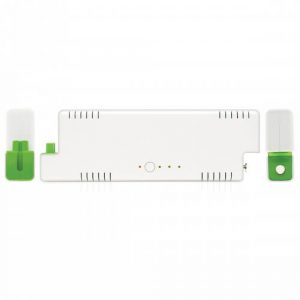 Airplanes, long car rides, inaccessible plugs in hotel rooms… and your battery is at 15%, with hours of time yet to kill. Chris Davis from Healthtech Weekly interviews Jenny Simpson from Lenmar about solving these everyday dilemmas. Chris was roaming the floor at the International CES conference in Las Vegas looking for the latest and greatest in tech and gadgets with the Tech Podcast Network team. Find out how you can extend your MacBook's battery life with Chris Davis and the Chug Plug.
The Chug Plug is the first of its kind; an external battery pack for your MacBook. It plugs into the brick portion of the laptop power adapter that comes with your computer and adds about four hours of battery life. The best part is that you don't need any extra cables. You charge it up with the other side of your Mac laptop's charging cable.
Presently, the Chug Plug is only available for the 13 inch MacBook Pro, as well as all models of MacBook Air; however, the company is working on producing a larger model to cover the 15- and 17-inch models of MacBook Pro.
The Chug Plug will be available in March for about $159.
[cessponsor]
Find more segments from CES 2014 both here and at Health Tech Weekly with host Jamie Davis, the Podmedic.
Podcast: Play in new window | Download
Subscribe: Apple Podcasts | RSS | More