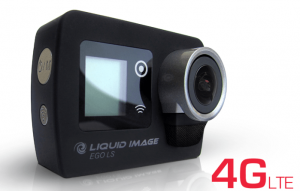 Get yourself a tiny wearable camera that will allow you to stream video over a 4G wireless LTE connection with Liquid Image. Chris Montera from the Tech Podcast Network and the Health Tech Weekly podcast checked out the interesting devices at CES Showstoppers event this year in Las Vegas. One of the them was a wearable camera technology from Liquid Image.
Liquid Image specializes is creating wearable cameras for active people on the go. They have cameras that can attach to anything from a motocross helmet or goggles to a scuba diver's mask. Now they have enabled Verizon 4G LTE transmission technology in their cameras allowing streaming video from anywhere Verizon 4G networks connect. While you might think this device is perfect for the action sports arena you're right but it also makes a perfect solution for first responders and public safety officers like policemen and firefighters in rescue situations.
The 4G LTE Liquid Image camera package will be available this summer and will cost around $399. You can get just the camera with basic Wifi and bluetooth technology for just $199. Check out LiquidImageCo.com for more information.
[cessponsor]
Follow-up with more segments from CES 2014 here at TPN.tv and over at the Health Tech Weekly Podcast with host Jamie Davis, the Podmedic.
Podcast: Play in new window | Download
Subscribe: Apple Podcasts | RSS | More