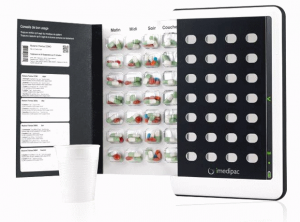 The iMedipac is a connected pill box device which will help individuals on multiple medications better manage their med regimen. Chris Montera, the Geekymedic, guest host for Health Tech Weekly joined the rest of the TPN.tv team at CES this year to help cover health technology. The iMedipac is just the type of connected home health device we're looking for.
A Pharmacy would prepare the weekly or monthly pill selection for the individual which is organized in specially designed blister pack. When the blister pack is inserted into the iMedipac device it then electronically tracks medications when they're taken and sends a message when pills are taken, identifying whether the correct medication was taken and when it was taken.
The iMedicpac is currently in U.S. Food and Drug Administration review and will eventually retail for $250. There will also be an $8 to $10 monthly charge to monitor the medications and compliance via iMedipac's secure online servers. This is the perfect solution for helping to monitor family members at a distance and make sure they're taking their medications.
[cessponsor]
Follow-up with more segments from CES 2014 here at TPN.tv and over at the Health Tech Weekly Podcast with host Jamie Davis, the Podmedic.
Podcast: Play in new window | Download
Subscribe: Apple Podcasts | RSS | More