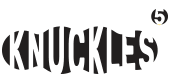 Kostiantyn Borysov is the creator of Knuckles 5, a multi-faceted, one-handed drone controller.
Drones are a big business in the U.S. Of the nearly 2 million drones registered with the FAA, about 1.3 million of them are recreational drones. There are currently over 200,000 certified remote pilots. By 2025, it is estimated that the market for commercial drones will exceed $13 billion per year (Stastica). So Knuckles 5 made a prime time entry at CES 2021, with some promising new developments in accessibility and functionality.
Designed initially around the idea of a flight stick, Knuckles 5 utilizes a single 5 button, 3 analog joystick with eight axes, and two modes. The device features two trackballs – one moved by the index finger and the other by the thumb – to control a drone along a combined four axes. Two more axes controlled by a mini-joystick, and another two axes by an IMU (inertial measurement unit) that picks up controller tilt. Using GUI (graphical user interface), it is technically possible to have 19 possible axes or 40 different buttons configured through the custom set up feature – all controllable with one hand. Borysov said the controller also provides for faster drone control than current controllers offer.
Still under development, the controller will be able to potentially control everything from pocket drones to commercial UAVs. And more intriguingly, the controller makes it possible to control two drones at the same time. Knuckles 5 opens up drone flying to people with disabilities, and Borysov is currently seeking people to test the device. While designed for flying drones the controller can also be used for video game play.
Knuckles 5 is expected to be available some time this year, and will retail at around $250 to $300. Visit the company's website to learn more.
Interview by Scott Ertz of F5 Live: Refreshing Technology.
Podcast: Play in new window | Download
Subscribe: Apple Podcasts | RSS | More