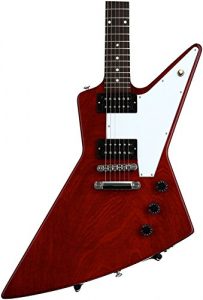 Gibson Guitars is excited to release their new High Performance Series based out of Nashville, Tennessee with the most innovative electric guitar they have ever made. This series has generated a lot of excitement and interest at CES. New features from this series include a unique contoured neck heel called the Soloist Neck. The Soloist Neck allows players to hit the highest notes on the neck board comfortably. This series also includes a height adjustable titanium nut that gives the player access to adjust how high they want their strings.
Gibson has also updated their G Force self-tuning system with the ability for alternate tuning. The updated system is faster and more accurate than ever before. You could tune a guitar with just the press of a button and a strum of the strings. It is also the first time that Gibson has released a self-tuning acoustic guitar in the Progressive Series due to the feedback from acoustic players who also want to use the easy access G Force system. These acoustic guitars are hand crafted in Bozeman, Montana and are made of solid wood.
These guitars are available for purchase now at any local Gibson authorized dealer like Guitar Center, Sam Ash, or Amazon. The High Performance Series starts at $1099.99 or if you aren't interested in the self-tuning system, you could purchase an electric guitar from the Traditional series starting at $739.99. The Progressive Series acoustic guitars starts at $1499.99.
Sponsored by:
Declare war on crappy earbuds and treat yourself to a better headphone experience with new Monster headphones.
Welcome to the Eureka! Factory, where great programs, projects, events and creative spaces and places happen!
Follow TPN on Twitter: Techpodcasts; Facebook: TPNTV; Google+: TPNTV
Interview by Daniele Mendez of F5 Live: Refreshing Technology
Podcast: Play in new window | Download
Subscribe: Apple Podcasts | RSS | More