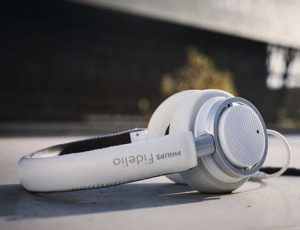 Philips is set on keeping their customers satisfied with new products this year. They are targeting different consumer needs from a durable active-wear to high quality fashion headphones.
Philips is making an active lifestyle easier and more convenient for customers by creating their new sports headphones, Wireless Freedom. This product is purely Bluetooth and gives the user a sense of running freely without feeling like they are wearing headphones at all. While being light weight, they are still extremely heavy duty and robust. Wireless Freedom has a long lasting battery life that lasts up to 4 and a half hours of playtime. Philips cares about the health and fitness of their customers and wants them to perform their best while working hard.
Philips is also targeting people who want to look glamourous while listening to their music and they can with the new Everlite Headphones. It says it right on the box, "Streamlined to shine, clear and crisp." They are quality sounding headphones, made with a convenient built in microphone. The Everlite comes in an attractive rose gold color while looking great and sitting comfortable. They are even compact and easy to put away.
If you are more into listening to music with no distractions, the Active Shield Pro is for you. Philips took noise cancellation by storm with a new and unique headset that eliminates 99% of background noise. The Active Shield Pro offers a no pollution, clean sound without having to crank up the volume to distract yourself from the outside world. You can enjoy them wireless or not with the ability to use the Bluetooth capability. Without a wire, the battery life can last up to 15 hours with Bluetooth and noise cancellation but also comes with a wire to plug into if the battery is too low so the music continues to play.
These products are already available for purchase at Philips.com with the Wireless Freedom on sale for $69.99, the Everlite for $49.99, and the Active Shield Pro for $169.99.
Sponsored by:
Declare war on crappy earbuds and treat yourself to a better headphone experience with new Monster headphones.
Welcome to the Eureka! Factory, where great programs, projects, events and creative spaces and places happen!
Follow TPN on Twitter: Techpodcasts; Facebook: TPNTV; Google+: TPNTV
Interview by Daniele Mendez of F5 Live: Refreshing Technology
Podcast: Play in new window | Download
Subscribe: Apple Podcasts | RSS | More