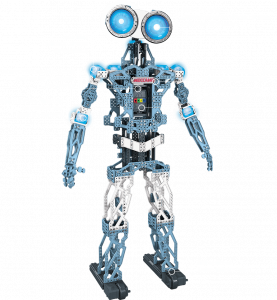 Robots are something we all know and love, regardless of age or experience with technology. They're just one of those things that you want to play with and learn more about. Luckily, Meccano is looking to make all of that possible by introducing a robotic friend that can be fully programmed to do a variety of things through a multitude of input methods.
For those familiar with the Erector Sets of the past, you may have already been familiar with Meccano, just under a different name. But now, Meccano will be bringing its name, along with its flagship product the Meccanoid, to stores across the world, beginning in August of 2015.
The Meccanoid stands four feet tall and comes in a simple-to-build kit. Once built, you can use different ways to tell the companion what to do. The easiest is the "mirror" method, where you press the record button on the robot and move its limbs around. Upon pressing the play button, the robot will do what you made it do, along with playing back any audio it recorded along the way. You can also program it via a smartphone that you connect to the Meccanoid via Bluetooth, or with a computer connected with USB. There's even the possibility of hooking up a Kinect or similar device, and having the robot follow your every move using tracking, which is really cool.
The Meccanoid can be built into a bunch of different forms, from a normal robot friend to an automated trash retriever, to anything else you can think of. With the ability to fully code the bot, the combinations of forms and functions are practically endless.
Meccano also won the Last Gadget Standing event at CES 2015 with its Meccanoid product.
Interview by Nicholas DiMeo of F5 Live: Refreshing Technology for the Tech Podcast Network.
Sponsored by:
From laptops and Lumia to Surface and Xbox, get it at the Microsoft Store.
Welcome to the Eureka! Factory, where great programs, projects, events and creative spaces and places happen!
Follow F5 Live: Refreshing Technology on Twitter: PLuGHiTzLive; Facebook: F5 Live; Google+: PLuGHiTz Live
Podcast: Play in new window | Download
Subscribe: Apple Podcasts | RSS | More