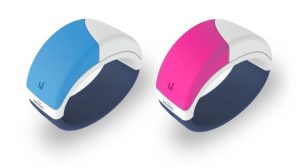 A trip through Eureka Park at any CES is always bound to lead to new and exciting products and individuals who are passionate about those products. That's the exact case with Kiband, a company that formed around a direct necessity and problem that impacted its CEO.
Kiband started with its CEO that lost his child at a 4th of July event for about 15-20 minutes. After trying leash solutions and other methods that really didn't work out for him, he created his own company to try a change up the market.
The key with Kiband is prevention and less of informing you of when your child actually gets lost. Using the parent's phone, the Kiband sets up a local geofence around the smartphone, and as the child approaches the perimeter set by the parent, the Kiband will first vibrate. If they then venture outside of the proximity, the device will then use an audible tone to alert the parent.
The distance is totally customizable by the parent and allows them to give the child as much leeway as they deem safe. The Kiband is also easy to set up, as it instantly connects to the phone and the app is made for those who are less tech savvy.
Still in research and development, the kids who have tested the device have really taken a liking to it and didn't want to remove it because it looked cool and was minimally invasive. Pricing will be around $100 to $120, with pre-orders available through an Indiegogo campaign, and delivery estimated to be in the summer.
Interview by Nicholas DiMeo of F5 Live: Refreshing Technology for the Tech Podcast Network.
Sponsored by:
From laptops and Lumia to Surface and Xbox, get it at the Microsoft Store.
Welcome to the Eureka! Factory, where great programs, projects, events and creative spaces and places happen!
Follow F5 Live: Refreshing Technology on Twitter: PLuGHiTzLive; Facebook: F5 Live; Google+: PLuGHiTz Live
Podcast: Play in new window | Download
Subscribe: Apple Podcasts | RSS | More