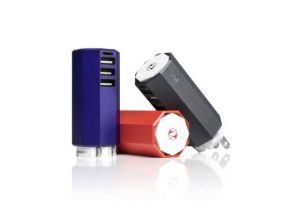 It's no secret: Everyone, at least once in their life has forgotten a charger or brought the wrong one on a business trip or vacation. What if there was one charger that you could bring that could handle 2 devices and a laptop? And what if the charger automatically knew what voltage and wattage to deliver to the devices? Meet Zolt.
The world's smallest laptop charger was a 2015 International CES Innovation Award Honoree. Zolt's ability to charger a laptop and two other devices at the same time is what makes it so unique and truly a product that stands out from the pack.
Zolt comes with a 6-foot proprietary cable that's the same color as the charger, which comes in an assortment of flavors. It also features the a bunch of different laptop tips that charge almost every device on the market today. Your Lenovo laptop, Apple iPad and any micro-USB device are all on the list of the hundreds of devices in total that can work with Zolt.
Weighing in at only 3 ounces, and available for a special pre-order price of $79, or $99 when launched, Zolt looks to makes its debut sometime in Spring 2015.
Interview by Nicholas DiMeo of F5 Live: Refreshing Technology for the Tech Podcast Network.
Sponsored by:
From laptops and Lumia to Surface and Xbox, get it at the Microsoft Store.
Welcome to the Eureka! Factory, where great programs, projects, events and creative spaces and places happen!
Follow F5 Live: Refreshing Technology on Twitter: PLuGHiTzLive; Facebook: F5 Live; Google+: PLuGHiTz Live
Podcast: Play in new window | Download
Subscribe: Apple Podcasts | RSS | More