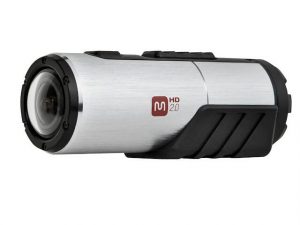 The team from Monoprice stopped by the TPN.tv booth to chat with Health Tech Weekly host Jamie Davis, the Podmedic about their new consumer electronics offerings at CES 2015. They brought a 22-inch HD Multi-touch Pen Interactive Display. It is Compatible with Windows 8.1 and Mac operating systems and combines a pressure-sensitive pen with cutting-edge multi-touch capabilities to create the ultimate viewing experience for those in the design industry.
Monoprice is also setting their eyes on the action camera marketplace with the MHD 2.0 Action Cam. It's the market's lowest-priced, full HD quality 1920x1080p action camera with 24-bit color depth at 30 frames per second (fps), this lightweight camera is the ultimate video recording solution for outdoor activities and extreme sports. Unlike other cameras that can only orient to zero or 180-degree mounting positions, this camera can align with zero, 90, 180 and 270-degree positions. It is waterproof up to 10 meters without needing a separate enclosure, and is also shock, dust and freeze proof.
Monoprice, an e-commerce leader that offers exceptional quality consumer electronics and tech gear at prices much lower than those of their competitors, today announced the release of a new suite of innovative tech solutions at the 2015 Consumer Electronics Show (CES). Featuring the latest advancements in hardware design and technology integration, Monoprice continues to disrupt the status quo by delivering premium products at affordable price points.
Make sure you follow Jamie's picks and coverage over at HTWeekly.com and the Tech Podcasts Network live CES 2015 coverage over at TPN.tv during the show where our entire CES team will be bringing you the best, the most innovative, and newest tech gadgets to you from the conference! And don't forget to check out his shows for at NursingShow.com, MedicCast.tv, and the brand new Health Tech weekly show at HTWeekly.com.
Podcast: Play in new window | Download
Subscribe: Apple Podcasts | RSS | More