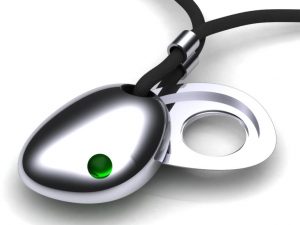 Get wearable technology giving you bluetooth connectivity with a little bit of bling at this year's International CES conference. Anne Montera from the Tech Podcast Network and Health Tech Weekly checked out some connected jewelry this year at the Showstoppers event at CES 2014. Paul from CSR.com brought Bluetooth Smart Jewelry to the show this year and Anne felt compelled to try it on. Most wearable technology is clunky and tech focused. CSR has wearable tech that is fashion oriented and fitting with people's personal style.
The idea that you can take jewelry or branded fashion items and make them have wearable technology capable resonates well with attendees this year at the conference, especially with women. The technology chipset can be added to any item of jewelry from a necklace, to a bracelet or even a ring. You can check out more information from the folks at CSR by visiting CSR.com and watch the videos that show how the wearable connected jewelry is made. Hopefully, the jewelry will be available for purchase sometime in the next 12 months.
[cessponsor]
Follow-up with more segments from CES 2014 here at TPN.tv and over at the Health Tech Weekly Podcast with host Jamie Davis, the Podmedic.
Podcast: Play in new window | Download
Subscribe: Apple Podcasts | RSS | More