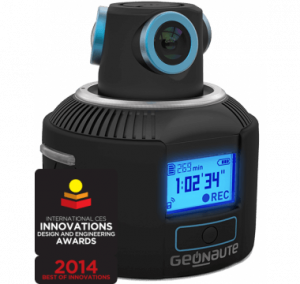 Justin Schneller from GeoNaute.com came by the TPN.tv booth at the International CES conference in Las Vegas to pick up the TPN Pick Innovator Award for the GeoNaute 360° sports camera they debuted at the show. Geek News Central host Todd Cochrane is joined by Health Tech Weekly host Jamie Davis, the Podmedic for a look at this awardee.
The GeoNaute brings a whole new dimension, literally, to the sports and active camera space. Their innovative 360° camera view allows the sports and outdoor enthusiast to record what's going on around them in real time, HD video. The mobile app and cloud console that comes with the camera allows you to view the recording, rotating the view wherever you want during the recorded playback, seeing up, down, forward or behind while wearing the camera.
Find out more about the GeoNaute camera at GeoNaute.com.
[cessponsor]
Podcast: Play in new window | Download
Subscribe: Apple Podcasts | RSS | More