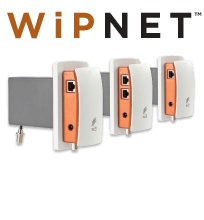 If you don't want to re-wire your house for Ethernet, then check this out. Wi3 developed a way to use co-ax wiring (which connects the cable to your TV) to carry more that just pictures. The Wi3 system replaces the wall jack with a modular unit that offers a range of connection or transport options. All without affecting the cable TV signal.
Installation is five minutes The first two modules are only available to dealers at present but they will be stocked in big boxes nationwide later in the year. Prices are $150 and $200 for the ethernet only and wi-fi models respectively.
Interview by Jeffrey Powers of Geekazine and Andy Smith of Geocaching World.
Podcast: Play in new window | Download
Subscribe: Apple Podcasts | RSS | More