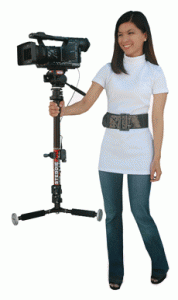 This is the funniest CES interview I've seen (which isn't saying much, to be honest). Jeffrey and Jamie get a hands-on demonstration ofBarberTech's SteddiePod by Eddie Barber, which actually looks pretty handy, all joking aside.
The Barber Tech SteddiePod is billed as the "world's most versatile camera support" and it's a handheld camera stabiliser with extra features designed in, so it can be used as a tripod or with the boom extended to give overhead shots. The setup looks amazingly straightforward – there's a good video on the Barber Tech website – and with just a few minutes easy work, the SteddiePod can be accurately balanced for a video camera.
The SteddiePod starts at $499 and is available from dealers nationwide. Barber Tech is "Emmy Award Winning" and has other products such as camera booms and teleprompters for the TV and film industry.
Interview by Jeffrey Powers of Geekazine and Jamie Davies of the  and the Nursing Show.
Podcast: Play in new window | Download
Subscribe: Apple Podcasts | RSS | More