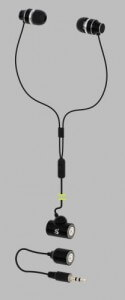 Skunk Juice earphones have a little feature which not only sets them apart from other earphones but brings friends together. Jeffrey and Andy talk with Corissa from Skunk Juice to find out more.
The novel feature about Skunk Juice earphones is that they have a patented inline magnetic coupler which provides two benefits. One, if you move away from your music player, the coupler snaps open rather than yanking your player onto the floor and, two, you can insert more than one inline magnetic coupler in the chain, letting you and your friends listen in to the same music. Up to four friends can tune in at the same time before the sound volume starts to fall. Neat.
Skunk Juice will be bringing new over-ear headphones to market later in the year, along with a Bluetooth version as well. The current earphones are $35.99 (available in black and white), the new larger headset will be around $100 and the smaller headset will be about $50. Skunk Juice earphones are available in the UKtoo.
If you are thinking that you've seen a magnetic coupler like this on a fruity laptop power supply and are wondering how Skunk Juice managed to get a patent, the answer is that Skunk Juice got there first.
Interview by Jeffrey Powers of Geekazine and Andy Smith of Geocaching World.
Podcast: Play in new window | Download
Subscribe: Apple Podcasts | RSS | More