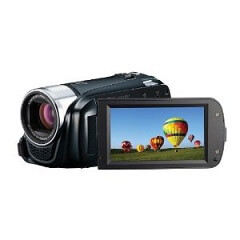 Video content creators, listen up. Canon has upgraded their VIXIA series to include some great new features. These cameras run high end – up to 24MB on AVCHD. They can also be switched to MP4 mode, so you don't have to convert a video before uploading to YouTube.
Jeffrey Powers talks to Ben Thomas about the VIXIA R-32 and VIXIA HFM-52. These are two-of-six models upgraded to get you better images, and WiFi capability.
The WiFi can also be tethered to an iPhone (via app), so you can push content up on various hosting platforms.
The R-32 is the low end consumer model. They upgraded the stabilization to a four-mode system. You can turn on or off, and when you place on a tripod, it turns off automatically.
The higher end HFM-32 has a LUX rating of 1.2 and a shutter speed of 1/30th of a second. This is great for low-light situations.
Canon also makes a waterproof case for divers to go 100 meters below water.
The R series starts at $349. The HFM-52 costs between $549-$749
Interview by Jeffrey Powers of Geekazine
Also check out – Canon – HD For All
[cessponsor]
Podcast: Play in new window | Download
Subscribe: Apple Podcasts | RSS | More