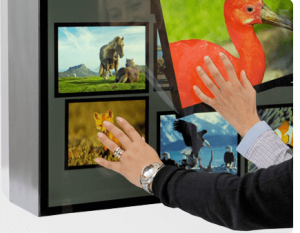 The MultiTouch company has launched a new multitouch platform for large-scale LCDs. These are multiuser and multitouch LCDs ranging from 32 to 100 inches.
The unit in this video consists of three 46 inch LCDs, stacked together. The video shows a demo of photos and videos floating around the LCDs that allow user interaction. You can drag and resize the objects and even play, stop, and rewind the video objects. All three LCDs were controlled by a single PC.
Typical uses for this interactive display technology is in retail shops, lobbies, museums, and many other places where user interaction is needed.
Interview by Tom Newman: Fogview Podcast
Get your 14 day Free Trial of Audible Gold to start Listening to great Books!
GoDaddy services saves you money! New Customers Save 25% Promo Code CES25.
Podcast: Play in new window | Download
Subscribe: Apple Podcasts | RSS | More