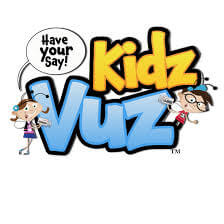 Rebecca Levey from KidzVuz joined Don and I for the TPN CES Live Broadcast. Kidzvuz is a COPA compliant site for kids under 13 who create and upload videos. This site – working with parents – gives kids an outlet for creating and sharing videos.
KidzVuz is a free service. They also work with an iOS app to create their own videos. Rebecca's favorite video is Flickin chicken. They also work with a lot of studios and brands, and some videos can go viral. KidzVuz has sent some to the red carpet to create even cooler content.
The kids own the content. They can delete their profiles at any time and no data is collected on the children. Since faces need to be seen in the videos, nobody will game the system.
Find out more at KidzVuz.com
[cessponsor]
Interview by Jeffrey Powers of Geekazine and Don Baine of The Gadget Professor
Podcast: Play in new window | Download
Subscribe: Apple Podcasts | RSS | More