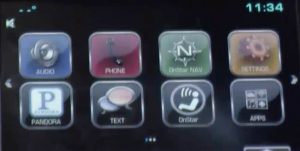 I stopped by the Chevy booth at CES to find out what was going on for 2014. Chevy made two announcements — the hotspot car and the Chevy app store called App Shop. Both of these help you stay connected while driving across the country while having great programs at your fingertips when needed.
The hotspot car uses Chevy's OnStar system  to communicate back and forth. With the OnStar subscription, you not only have the car as a hotspot, but your Chevy vehicle will even have its own phone number. You can definitely connect your own phone via bluetooth, but that is not needed.
Chevy also debuted their app store at CES. You won't be able to play Angry Birds or Candy Crush, but you will be able to load apps to help you navigate and enjoy the ride. Twelve apps are available at start (Chevy will have an open API for developers) including Pandora, Glympse, Event seeker, and even Priceline (William Shatner rides with you in a Chevy…)
These features will be available in all 2015 Chevy vehicles.
[cessponsor]
Interview by Jeffrey Powers of Geekazine
Podcast: Play in new window | Download
Subscribe: Apple Podcasts | RSS | More