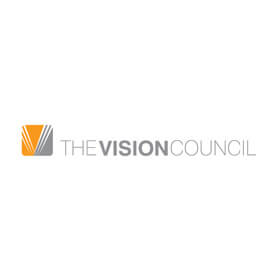 The Vision Council is a not for profit that is dedicated to really focusing in on all of the things that we can do to make our lives better through glasses. Maintaining healthy eyes through better designed eyewear is a passion for them. Chris Montera, guest correspondent for the Health Tech Weekly podcast chats with Mike in the Vision Council booth at the International CES show this year and they discuss how people can improve their eye health with the use of new, high-tech coatings for their corrective lenses, prolonging their eyesight.
One of the big things today in eye care  is what they call HEV or High Energy Violet light. Studies have shown that there's a correlation between that and age-related macular degeneration by not blocking that light range out. Many of our computer screens put out a lot of this blue light range and it can cause damage to your eyes if it's not filtered out by your lenses. Even people who do not use glasses could benefit through the long-term use of an HEV coating on a set of clear, non-corrective lenses to protect their eyes before the deterioration begins.
You can find out more about this and other initiatives from the Vision Council at their website, TheVisionCouncil.org. There you'll find the latest in eyewear technology and eye health from this trade group representing your local eye care professionals in your communities.
[cessponsor]
Get more segments and coverage from the digital health pavilion at CES 2014 here at the Tech Podcast Network and at the Health Tech Weekly podcast with Jamie Davis, the Podmedic.
Podcast: Play in new window | Download
Subscribe: Apple Podcasts | RSS | More