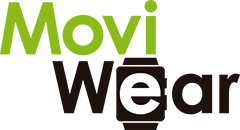 If you have a loved one who is aging in place, it can be difficult to feel comfortable that everything is okay. Is the persona okay or have they fallen, or maybe having heart issues? For most of us, the best we can do is hope that everything is okay and, if not, our loved ones will call us to say something is wrong. But, many people don't want to admit that something is wrong, so that is less likely. However, MoviWear is working to alleviate these concerns.
The company provides a number of connected devices that help track the wearer's activity and status and can report it to family and caregivers. Depending on the device, you can track different things, ranging from heart rate to blood glucose level (without pricking yourself). The devices connect to a central system and aggregate the data, creating a live report for caregivers.
MoviWear's primary wearable is the NurtureWatch. This smartwatch looking device is designed with the brains, but without the visual bells and whistles. While it may not offer an app store or web browser, it does provide the wearer with a number of major benefits. Of course, it's a watch, but it also incorporates AI-powered fall detection. This feature allows the device to detect when motion falls outside of the normal range of motion and can report to medical personnel, friends, or family, that something has happened. The watch also features a red SOS button, which can be used in the event assistance is needed.
In addition to the watch, the company also offers a simple panic button. This device works like the red SOS button on the watch but is a stand-alone product. It can be worn as a pendant, watch, or set on a table – whatever is most convenient for the user at the time. Both products are available from the company's website and retail around $250.
Interview by Todd Cochrane of Geek News Central.
Podcast: Play in new window | Download
Subscribe: Apple Podcasts | RSS | More