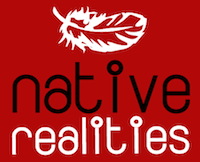 After conducting this interview, the crew and myself had to add a new word to our vocabulary: Indiginerd; a lover of indigenous nerd and pop culture.
Created out of a love for comics, all things pop culture and the belief that there was not a substantial or accurate representation of Native and indigenous people, Native Realities was born. Their goal? To entertain, and educate adults and children alike. The company publishes several books, available in print or digitally, from Native creators and starring Native and Indigenous characters with future plans to branch out into games and animated projects. This interview was a breath of fresh air for me. Being an avid comic reader, I was always disheartened with the knowledge that there were only a handful of books that had actual Native characters in them. However, for every one that was written in a real and believable way, there were two that were basically joke characters. It warms my heart to see something like this exist in today's world.
In addition to the many things this company has coming down its respective pipeline, they are also gearing up for their second Indigenous Comic Con which will be held on November 10th through 12th in Albuquerque, New Mexico. Please check these guys out, and to find out more about this great company, or to just go and let your Indiginerd flag fly, you can find them here.
Sponsored by:
Declare war on crappy earbuds and treat yourself to a better headphone experience with new Monster headphones.
Blast to the future with the Monster Blaster: the boombox reimagined.