AMPY MOVE has found a unique way to help find the energy to keep your smart phone powered throughout the day: your body.
AMPY MOVE is a motion charger that captures kinetic energy from your motion and transforms it into battery power. Co-founder Alex Smith said at CES that one hour of exercise could supply up to five hours of extra smart phone standby battery life. The form-fitting device features an 1800mAH Li-Ion battery and can also be charged from a wall outlet. A second USB port allows the user to charge their smart device from the portable charger.
The product is already available for purchase at getampy.com and retails for $99.
Sponsored by:
Declare war on crappy earbuds and treat yourself to a better headphone experience with new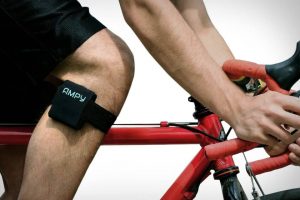 Monster headphones.
Welcome to the Eureka! Factory, where great programs, projects, events and creative spaces and places happen!
Follow TPN on Twitter: Techpodcasts; Facebook: TPNTV; Google+: TPNTV
Interview by Scott Ertz of F5 Live: Refreshing Technology
Podcast: Play in new window | Download
Subscribe: Apple Podcasts | RSS | More