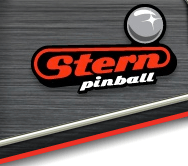 Pinball is as American as apple pie and baseball cards. Sure, it might have originated in England, but there's nothing like visiting an old school arcade and seeing a classic Stern Pinball machine sitting in the corner, waiting for you to put a quarter in. Since 1986, Stern Pinball has been constantly coming out with new and exciting tables and at CES this year, the goal was to show off the latest innovations in pinball games.
In the past, pinball machines could be a diaster to fix. If something went wrong, and you weren't an expert, that machine was never going to get fixed. The old systems had a motherboard, and a bunch of wiring that ran through the entire game. The units were extremely heavy and plus, there was always this old, dusty LCD display that never really "popped" into today's world.
Now, with Stern's new technology, the machines feature a bus system, eliminating the giant wiring harnesses. There's also all LED lights, a much lighter power supply and it's now easier to maintain. Moreover, you can have a multi-colored LED display to really brighten a room, making the machine more noticeable. New machines even come equipped with WiFi, allowing multiple machines to sync up and communicate with one another for a more multiplayer experience. As you can see, with Stern's new innovations to an old classic, pinball is back with a new facelift and is ready to win over the minds and heart of the next generation of gamers.
Interview by Nicholas DiMeo of F5 Live: Refreshing Technology for the Tech Podcast Network.
Sponsored by:
From laptops and Lumia to Surface and Xbox, get it at the Microsoft Store.
Welcome to the Eureka! Factory, where great programs, projects, events and creative spaces and places happen!
Follow F5 Live: Refreshing Technology on Twitter: PLuGHiTzLive; Facebook: F5 Live; Google+: PLuGHiTz Live
Podcast: Play in new window | Download
Subscribe: Apple Podcasts | RSS | More