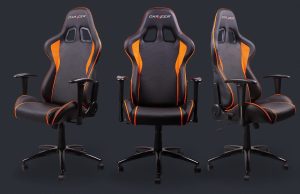 The most comfortable interview of the International CES found us at the DXRacer booth, talking about their recent line of gaming and productivity chairs. Before making DXRacer chairs, the company's roots were in manufacturing high-level racing seats, which is where the attention to quality, comfort and detail came from for these chairs. The company also owns its own factory and has some of the oldest patents for a style of chair that they create.
There are six different series of chairs, starting with the Formula series, then the Drifting series, the Racing series, the Max series, the Universal series and lastly the King series. With so many choices, DXRacer goes above and beyond to understand their customers and tries to tailor the purchase to the body type of the customer and the use of the chair. Because a premium chair like this is an investment, it's important to make sure you get the right one that fits your needs.
DXRacer has also partnered with Major League Gaming and debuted the design for the MLG chair at CES. The company is diversifying its reach by getting involved in a new line of desks, to create a whole home office solution. After this interview, it was hard to get to the next one because after five minutes in the chair, Nick did not want to get up.
Interview by Nicholas DiMeo of F5 Live: Refreshing Technology for the Tech Podcast Network.
Sponsored by:
From laptops and Lumia to Surface and Xbox, get it at the Microsoft Store.
Welcome to the Eureka! Factory, where great programs, projects, events and creative spaces and places happen!
Follow F5 Live: Refreshing Technology on Twitter: PLuGHiTzLive; Facebook: F5 Live; Google+: PLuGHiTz Live
Podcast: Play in new window | Download
Subscribe: Apple Podcasts | RSS | More