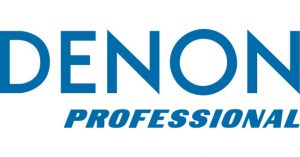 A trip to CES is never complete without visiting our good friend Eric Palonen. Now spear-heading Denon Professional, a high-end audio product company, Eric is responsible for showing more people some of the company's great products. At CES 2015, Denon Professional debuted 12 new and exciting products, all launching in the spring.
Denon Professional showed off the Solution Series, designed for the A/V integrator or consultant. They're little boxes made for very specific tasks. For instance, the DN-2000BR is a Bluetooth receiver with balanced audio outputs. For someone who's upgrading a building, you no longer need to buy all new equipment to outfit the space with the latest tech. Other products in the Solution Series handle things like AirPlay, DLNA, audio routing without drilling holes, and Android mini-computers.
Denon Professional also demonstrated the Envoi. It's a portable and powerful PA system perfect for places where a user might not have access to a large bank of power but need sound reinforcement. With the Envoi, you get a 360-watt speaker with a myriad of functionality and inputs. You can stream music from your smartphone, off an SD card, Bluetooth or even plug in your audio mixer. You can then unplug it and operate it for up to 12 hours on a single charge. Even better, there's a built-in wireless microphone. Envoi will retail for $599.
We also got to take a look at the DN-300Z. It's a poly-media player, so it'll play almost anything you can think of. Slot-loaded CDs, USB, SD card reader, Bluetooth and AM/FM radio all come in a concise 1U device and perfect for clubs, places or worships or other larger venues. $399 gets you a DN-300Z.
Lastly, Eric showed us another Solution Series device, taking a page out of the on-the-desk KUDO device, with a covert presentation manager. Typically mounted under a table or in a rack, it supports Bluetooth, DLNA, MiraCast, Airplay and is 4K-ready.
All these devices, and more, can be found at Denon Professional's website and it's definitely a place you'll want to check out to see the entire line-up.
Interview by Nicholas DiMeo of F5 Live: Refreshing Technology for the Tech Podcast Network.
Sponsored by:
From laptops and Lumia to Surface and Xbox, get it at the Microsoft Store.
Welcome to the Eureka! Factory, where great programs, projects, events and creative spaces and places happen!
Follow F5 Live: Refreshing Technology on Twitter: PLuGHiTzLive; Facebook: F5 Live; Google+: PLuGHiTz Live
Podcast: Play in new window | Download
Subscribe: Apple Podcasts | RSS | More