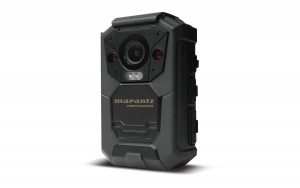 Marantz professional audio and video recorders are known as the standard for journalists and court reporting. Now they've come up with a personal video recording device that is wearable and can be used by service workers and first responders like police and fire fighters to record their daily activities. The Marantz PMD-901V is a GPS enabled portable video recorder. It captures full HD video and can capture a full work day of video for workers in a variety of situations.
To set the stage, a service worker like a cable installer comes into a home. After the work is completed, the homeowner claims that the worker broke something in the home. Ah, but that cable installer was wearing the PMD-901V and has the proof that they didn't break anything while in the home. This device will be an invaluable resource for everyone from first responders to your appliance repairman.
Find out more about the InMusic Brands and the Marantz PMD-901V here.
Make sure you follow Jamie's picks and coverage over at HTWeekly.com and the Tech Podcasts Network live CES 2015 coverage over at TPN.tv during the show where our entire CES team will be bringing you the best, the most innovative, and newest tech gadgets to you from the conference! And don't forget to check out his shows for at NursingShow.com, MedicCast.tv, and the brand new Health Tech weekly show at HTWeekly.com.
Podcast: Play in new window | Download
Subscribe: Apple Podcasts | RSS | More