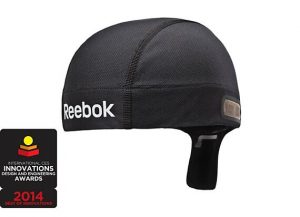 While at the CES Unveiled event this year, Health Tech Weekly host Jamie Davis, the Podmedic stopped by the Reebok booth to see what they've developed to improve concussion and head injury awareness in sports. The Reebok  CHECKLIGHT™ is a wearable sensor that athletes wear under their helmets to detect any impacts to the head. In sports, impacts are a part of the game. CHECKLIGHT™ alerts athletes, coaches, athletic trainers and parents to the severity of impacts.
Jamie chats with Paul from Reebok about how the CHECKLIGHT™ works. The device is worn attached to a thin skullcap that can be comfortably worn under any type of sports helmet. There is also a sweatband version that can be worn in sports without helmets like soccer, rugby or field hockey. The device is simple to read. It has three lights on the back of the band. Green indicates no significant impact, yellow alerts to a moderate impact and red signals a potentially significant impact. The device doesn't show the presence or diagnosis of injury, just a measurement of the force received by the head but it can be used by parents, coaches and trainers to indicate whether further medical evaluation might be needed.
The CHECKLIGHT™ is available now on Reebok's website for $149.98. Check it out!
[cessponsor]
Find more segments from the Digital Health Pavilion at CES 2014 both here and at the Health Tech Weekly podcast site with host Jamie Davis, the Podmedic.
Podcast: Play in new window | Download
Subscribe: Apple Podcasts | RSS | More