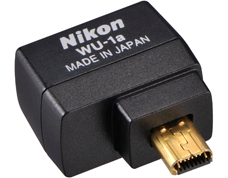 Nikon has introduced new adapters the WU–1a and the WU–1b. These adapters allow the camera to connect wirelessly to a smart phone. It's a small adapter that can be use with the new DSLR and Nikon 1 models. It cannot be used with older cameras because they do not have the correct circuitry. Not only does this adapter allow you to send the pictures from your camera to the phone wirelessly, it also allows you to trigger the camera directly from the phone. For example let's say you want to take a picture of a group and you want to be in the picture; you can set your camera up, then place yourself in the group, then arrange the group the way you want using what you see in the phone as a guide, knowing that what you see in the phone is what the camera seeing, you can then trigger your shot using the phone.
Nikon's newest camera is a D5200. It has a 24.1 megapixel sensor. You can take high-speed continuous shots up to five frames per second it has a high ISO sensitivity range of 100 to 6400. This allows you to get good pictures even in a low light situation. The D5200 Includes a stereo microphone and the ability to film in full HD. The LCD screen on the back flips out making the camera easier to use. The D5200 is $895 with full kit and $795 for just the body. The base price for the Nikon 1 S1 is $499 and for the J3 it is $599. You can find more about these cameras in the adapter at the Nikon website.
Interview by Don Baine, the Gadget Professor.
Podcast: Play in new window | Download
Subscribe: Apple Podcasts | RSS | More