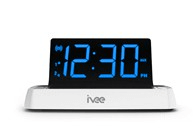 Ivee is a personal digital assistant – equipped with speech recognition circuitry that offers Natural Language Processing. By analyzing digitized portions of the voice signal as they are spoken, ivee determines the most probable word given the phonemes you spoke.
That's the tech story. What that means is that all you have to do is ask the time, date, weather or temperature. Ivee can generate three different sleep sounds, and understand 35 commands. Price class  $50
Interview by Andy McCaskey and Courtney Wallin of SDRNews for the TechPodcast Network.
[cessponsor]
Podcast: Play in new window | Download
Subscribe: Apple Podcasts | RSS | More