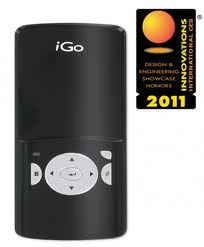 The Pico pocket projector got an innovation award at CES2011, and for a reason!
iGo has come up with a great mobile solution for those of you who owns a Flip camcorder.  What's so great about this combination is that this project is so small that it easily fits in your computer bag.
This solution allows you to show off your videos on the go whenever you want without additional equipment. You can show a 70″ display with the Pico. Perfect for the traveling journalist and hobbyist.
Get your 14 day Free Trial of Audible Gold to start Listening to great Books!
GoDaddy services saves you money! New Customers Save 25% Promo Code CES25.
Podcast: Play in new window | Download
Subscribe: Apple Podcasts | RSS | More