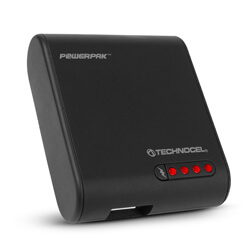 Technocel shows off the PowerPak XT at CES 2011. PowerPak is an external charger for mobile devices. With a 1600 mAh battery, you can get around 4.5 hours of charges.
The PowerPak works with almost all smartphones. Just use the adapter and plug in . $49.99 and available now from Best Buy or Sprint.
The BatteryBoost is a keychain-sized rechargeable battery for emergencies, charging and recharging via microUSB. $29.99 and available from the same locations.
Interview by Andy McCaskey of SDR News.
Please Support our CES 2011 Sponsors
Get your 14 day Free Trial of Audible Gold to start listening to great books!
GoDaddy services saves you money! New Customers Save 25% Promo Code CES25.
Sponsor: The New Luxor, Las Vegas Deals Start @ $40.00 best rates guaranteed.
Podcast: Play in new window | Download
Subscribe: Apple Podcasts | RSS | More