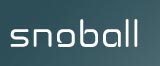 If you are a non-profit, this is a great way to get donations. People would log on to Snoball and integrate giving tp charities of your choice.
For instance, if you set a goal, you can donate to a cause. These triggers will act when something happens. For instance. I could say: I'll donate $100 if my Twitter followers reach 1,000. When that happens, the trigger is tripped and your account will send the money.
This can work with a business – after so many Foursquare check-ins, a business could donate to their charity. There is also a cap, just in case the Snoball goes viral. You don't want to break the bank.
There are over 1.6 million nonprofits to send donations to. These are 501C and 170C non-profits, as registered by the government. Start a Snoball, Share a Snoball and see the good.
For instance, there is a Snoball right now that when Jeremy Lin scores, someone is donating 5 cents to Garden of Dreams Foundation.
They are working on defined categories, but you can definitely search for local charities to give money to. There is no "random" option, but Snoball does feature charities that you could get behind.
This is all tax deductible. You can get a report at the end of the year who you gave money to.
Interview by Jeffrey Powers of Geekazine and Andy Smith of Geocaching World
[cessponsor]
Podcast: Play in new window | Download
Subscribe: Apple Podcasts | RSS | More