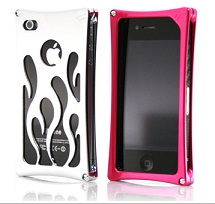 In most cases, I wouldn't want to put a bulky case on my iPhone. With Wicked Metal Jacket, I think I'd change my mind.
Wicked Metal Jacket creates cases out of aircraft quality Aluminum bar stock. However, the machined designs and anodized colors make each case pretty cool to have around.
The cases are pretty hard-core. Each case comes with a screwdriver so you can put your iPhone in. Prices start at $49, but for the true enthusiast, should be a great case to have.
Interview by Jeffrey Powers of Geekazine
Get your 14 day Free Trial of Audible Gold to start Listening to great Books!
GoDaddy services saves you money! New Customers Save 25% Promo Code CES25.
Podcast: Play in new window | Download
Subscribe: Apple Podcasts | RSS | More