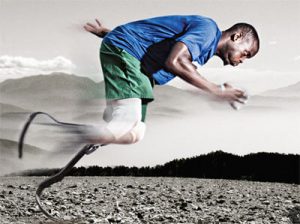 A very inspirational story from Blake Leeper, who wants to be the first handicapped Olympic runner. He was born without legs and was told he could not walk — let alone run. Blake has overcome many adversities in his life and became an award winning American Blade Runner to boot.
Blake has won the Bronze in 200 and silver in the 400. But Leeper wants more. He came back and won 3 silvers and the gold in Relay.
Blake wants to be the first amputee to compete in the Olympic games. He spends 6-8 hours a day, giving 120%.
Blake Leeper is a friend of 50 Cent, who brought him to CES for SMS Audio.
We take a look at the carbon fiber prosthetic Blake uses to "maintain the energy", whereas others have ankles and leg muscles, these devices will help Leeper push barriers.
"I'm out here trying to push the barriers and let the world know what's next," Says Leeper. "I'm running on these things and breaking world records, but we're ready for the next generation and we're ready for the next thing."
To follow Blake Leeper's journey, check out americanbladerunner.com and his trip to RIO. He supports the Challenged Athletes Foundation, who gave him his first pair of legs.
[cessponsor]
Interview by Jeffrey Powers of Geekazine and Chris Montera of Health Tech Weekly
Podcast: Play in new window | Download
Subscribe: Apple Podcasts | RSS | More