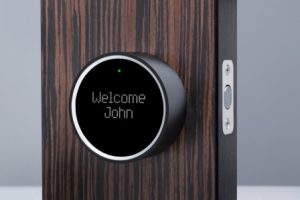 We were joined by Gabriel Bestard-Ribas of Goji Access to the CES TPN Live broadcast. Goji is making key-less electronic locks with built in camera and other security features. A photo is sent so you can confirm who is at the door. Further, you can send a personalized greeting to whoever is at the door. The smart lock starts taking photos before the person approaches the door.
Goji can do more than just allow someone in. If you have a cleaning person come twice a week, you can control the access schedule. It will also make you aware if its not the regular cleaning person.
The Goji unlocks in three ways – Bluetooth LE, smartphone app and through keyfob. The keyfob can be programmed for multiple doors (front, back door, summer house, etc). The base unit also has an accelerometer so if someone knocks on the door, the system will alert your phone.
As each person access Goji, the information will be available in a spreadsheet you can access from your phone. Complete with access time and photos.
The smart lock runs on 4 double-A batteries and there is no special install or cuts made. You can replace your standard lock with this one. The smart lock is set to withstand 85 to -25 degrees. Best part is if the batteries run out, you can flip the door and use the key access.
The smart lock is not available just yet, but you can sign up for an early bird special over at gojiaccess.com Prices will start at $278 for the basic model. Availability will be in March 2014
[cessponsor]
Interview by Jeffrey Powers of Geekazine and Don Baine of The Gadget Professor
Podcast: Play in new window | Download
Subscribe: Apple Podcasts | RSS | More