Flexible Solution to Holding Your Phone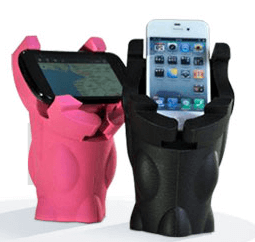 Not all CES is bleeding edge tech. If you are looking for an inexpensive way to hold your phone, GPS, or music player in a wide variety of vehicles – or keep the kids in the backseat a bit more organized, here's the Cup Holder phone mount. Especially designed for over the road use – it can be found at various truckstops and RV destinations throughout the US, or available on the web at HerculesHolder.com.
CorrysCoolStuff.com also has a variety of specialized novelties that might be of interest to you as well. And the price is right – less than $15.
TPN Interview by Andy McCaskey, SDRNews
[cessponsor]
Podcast: Play in new window | Download
Subscribe: Apple Podcasts | RSS | More