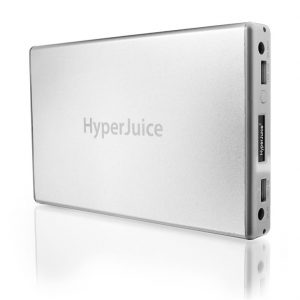 At the recent CES 2014, Hyper Juice presented an affordable battery pack system that can serve as backup for your Macbook.
Hyper Juice Macbook batteries come in four different capacities, beginning with the 60Wh, which allows you to charge your Mackbook for up to 14 hours. Not only can you use it to charge your Macbook, you can also use it to charge your iPhone, a tablet, or any USB-powered device. They also have the HyperJuice 100Wh, which gives your Macbook an additional 24-hour charging time, and up to 18x for your iPhone. The 150Wh HyperJuice battery, on the other hand, has the ability to provide an additional of up to 36 hours of charging time for your Macbook and iPhone for about 27x. Lastly, the 222Wh Macbook battery pack is a 61,000mAh that provides an additional 53-hour charging time for your Mackbook, and 40 hours for iPhone.
If you're a professional that produces audio and video podcasts that need extra hours from their Macbook, these battery backup from HyperJuice will be a perfect addition to your gadgets.
Using the Magic Box kit, a little adapter where you can modify your existing MagSafe Power Adapter, all you have to do is connect it to your Macbook to create a connection. This will enable your Macbook to charge your internal battery instantly. So when you need extra juice, all you need to do is connect it to the HyperJuice battery and it will instantly recharge your computer or iPhone. Each Magic Box is sold in three different options. One is the battery by itself, the Magic Box Do-It-Yourself kit, and the pre-modified MagSafe Power Adapter, wherein the Magic Box will do the modification for you.
Furthermore, there's also the HyperJuice 2, which a 100Wh that has an OLED screen as well as the ability to interchange the internal battery at a later time. So if in two or three years your battery starts to dissipate and you want to have the most up-to-date battery, all you need to do is contact them and they will help you do that.
As for its prices, the 60Wh HyperJuice external battery starts at $169.95, $249.95 for the 100Wh,$349.95 for the 150Wh, and HyperJuice External Battery 222Wh for iPad/iPad 2 & MacBooks (MBP-222). The HyperJuice 2, however, can be bought at only $299.95, Magic Box not included. Learn more about the HyperJuice line from Hyper's website.
Interview by Daniel J. Lewis from The Audacity to Podcast.
[cessponsor]
Podcast: Play in new window | Download
Subscribe: Apple Podcasts | RSS | More